The 2018 Volkswagen Atlas is scheduled to be available during summer 2017 !
May 10 2017,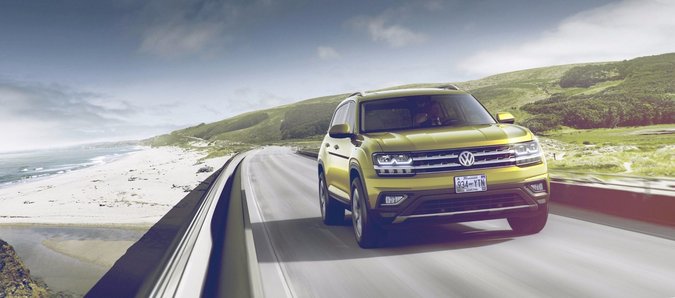 The 2018 Volkswagen Atlas is the largest vehicle released in North America by Volkswagen so far, and a full-size SUV able to transport up to seven passengers.
It features all the latest luxury in comfort and technological equipment. Scheduled to be released during the 2017 spring, it will be available in your premier VW dealership between Laval and Montreal's West-Island, Volkswagen Lauzon St-Eustache, at the same time!

Outstanding performance and cargo capability for seven passengers

The 2018 Volkswagen Atlas has been conceived for delivering great performance, while being able to carry up to seven adults in the best comfort possible. It has all the versatility you need for all your hockey or family members and their luggage, with a third row of adult sized seats, its stowaway seats middle row, or its colossal cargo space!
The 2018 Volkswagen Atlas has anything needed on the performance side, especially regarding towing capabilities. You can choose to power your 2018 Volkswagen Atlas with a turbocharged 4-cylinder engine developing an impressive 235 horsepower, or the optional 3.6-liter V6 with a staggering 276 horsepower. Both are available with an 8-speed automatic gearbox. You may also get the 4MOTION all-wheel drive system with the V6 engine. With all these features, the VW Atlas has a towing capacity among the best in the category, matching the Honda Pilot or the Ford Explorer ones. Whatever is the Montreal's West Island or St-Eustache rough road pavement you choose to drive on, even the harshest ones, they won't be a problem for you and your passengers thanks to its amazing road handling capability!



Interior: all the latest safety and technology refinement

Interior wise, everybody will experience the very best of the latest technology, comfort and safety refinements! All the essential driving and navigation information are displayed on the beautiful Virtual Cockpit dashboard, and the blind spot detection system, associated with multi-collision braking, offers a never-seen-before level of peace of mind regarding passengers' safety. When you add driving mode selection, the app-connect technology that helps you browse through your smartphone, and the latest infotainment system, you will be thrilled by a truly unique driving experience, that is Volkswagen trademark.

For any question concerning the 2018 Volkswagen Atlas, please contact your specialists at Volkswagen Lauzon St-Eustache, your premier VW dealer, minutes from Laval and the Montreal's West Island. Moreover, you may discover the 2018 VW Atlas at the 2017 Montreal Autoshow, from January 20th to January 29th, 2017.